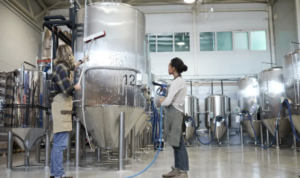 How to Open a Brewery or Brewpub: A Step-by-Step Guide 
The allure of turning a brewing hobby into a successful business has captivated many. But what does it really take to open a brewery or brewpub? In this article, we'll outline the steps to turn that dream into reality, including a look at the revolutionary EZBrew.beer automated beer brewing system.
**1. Do Your Research**
Starting with proper market research is key. Analyze your competition, identify your target market, and understand the beer preferences of your potential customers.
*Reference:* [Brewers Association](https://www.brewersassociation.org/)
**2. Create a Solid Business Plan**
This step cannot be stressed enough. Outline your brewery's mission, vision, branding strategy, projected financials, and more. Investors and banks will require this.
*Reference:* [SCORE's Brewery Business Plan Guide](https://www.score.org/)
**3. Select the Right Location**
Location matters. Ensure it's accessible, fits your brand's vibe, and adheres to local zoning laws.
*Reference:* ["Brewery Operations and Zoning" by CraftBeer.com](https://www.craftbeer.com/)
**4. Obtain Necessary Licenses and Permits**
This includes federal, state, and local licenses. Each state has different requirements, so work with a local expert.
*Reference:* [Alcohol and Tobacco Tax and Trade Bureau (TTB)](https://www.ttb.gov/)
**5. Build a Great Team**
From brewers to front-of-house staff, building a great team ensures your brewery runs smoothly and customers keep coming back.
**6. Choose Your Equipment**
This is where EZBrew.Beer comes into the picture. For those who want to simplify the brewing process without compromising on quality, the EZBrew's automated beer brewing system is a game-changer. Its automated system streamlines brewing, ensuring consistency in every batch. This can save labor costs, reduce human error, and allow brewers to focus on crafting unique recipes.
*Reference:* [EZBrew.beer Product Overview](https://www.ezbrew.beer/)
**7. Craft Your Beers**
Develop a diverse range of beers to cater to different tastes. Remember, consistency is key, and that's where equipment like EZBrew.beer can be invaluable.
**8. Marketing and Branding**
Establish a solid brand identity and employ SEO techniques, social media marketing, and other promotional methods to make your brewery stand out.
*Reference:* ["Craft Beer Marketing & Branding Guide" by BeerAdvocate](https://www.beeradvocate.com/)
**9. Host a Memorable Launch Event**
Your launch event sets the tone. Make it memorable with live music, food pairings, or special-release beers.
**10. Focus on Continuous Improvement**
Always be open to feedback and look for ways to refine your beers, enhance the customer experience, and optimize operations.
**Conclusion**
Opening a brewery or brewpub is no small feat, but with the right steps and innovative tools like the EZBrew.beer system, it's possible to create a successful and lasting venture. Cheers to your brewing dreams!