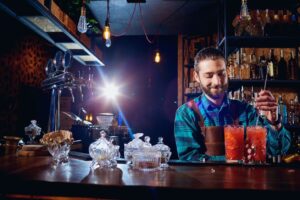 If you've always dreamed of owning a lively hotspot or a cozy retreat for locals, then you might have pondered on "how to open a bar." While the idea of running your own bar might sound exciting, it requires careful planning and dedication. Here's a comprehensive guide on how to open a bar, ensuring you cover all the bases.
**1. Research and Conceptualize**
The first step in figuring out how to open a bar is conducting market research. What kind of bar does your community need? Dive bars, sports bars, cocktail lounges, and speakeasies all offer different atmospheres and attract distinct clientele. Your bar's concept will influence everything from the decor to the drink menu.
**2. Write a Business Plan**
A well-thought-out business plan is essential. This document should detail your bar's concept, projected financials, marketing strategy, and operation plans. It will not only guide you but will also be essential if you're seeking investors or a loan.
**3. Find the Perfect Location**
The adage "location, location, location" rings true when considering how to open a bar. The ideal spot is easily accessible, has good foot traffic, and complements your bar's theme. Remember to check zoning laws and ensure that the location can be licensed for alcohol sales.
**4. Secure Financing**
Opening a bar isn't cheap. From rental costs to stocking up on beverages, there are many initial expenses. Whether you're using personal savings, taking a business loan, or finding investors, ensure you have a clear financial plan.
**5. Get the Necessary Licenses and Permits**
Understanding licensing is crucial when exploring how to open a bar. Depending on your location, you'll need various permits, the most important being the liquor license. The process can be lengthy and may require legal help, so start early. Also, remember health permits, music licenses, and any local-specific permits.
**6. Design Your Space**
The interior of your bar should reflect your concept. It's not just about aesthetics; think about functionality. Your staff should be able to serve customers efficiently, and patrons should feel comfortable. Don't forget to consider sound systems, lighting, and restroom facilities.
**7. Hire and Train Staff**
From bartenders to bouncers, your staff plays a significant role in your bar's success. Hire experienced individuals, or if you're training newcomers, ensure they understand drink mixing, customer service, and safety protocols.
**8. Stock Up**
Once you know how to open a bar, you'll realize that a good bar is as good as its offerings. Invest in a wide variety of liquors, beers, and mixers. Don't skimp on quality. Remember to set up relationships with suppliers for regular restocks.
**9. Market Your Bar**
Before your grand opening, start building buzz. Use social media to tease the opening, offer opening day specials, or host soft opening events for local influencers. Continual marketing efforts, from themed nights to special promotions, will keep patrons coming in.
**10. Open with a Bang and Adapt**
Your opening night should set the tone for your business. Ensure everything runs smoothly, from service to music. As days turn into weeks, pay attention to customer feedback and be prepared to adapt. Maybe a cocktail isn't as popular, or perhaps a themed night isn't drawing crowds. Flexibility is key.
In conclusion, understanding how to open a bar is about more than just serving drinks. It's about creating an atmosphere, offering impeccable service, and adapting to the ever-changing needs of your clientele. With thorough research, meticulous planning, and a dash of passion, your dream of opening a bar can be a resounding success. Cheers to your new venture!