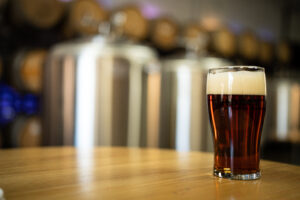 Embarking on the journey of opening a brewpub is both exciting and demanding. Crafting unique brews and pairing them with delicious meals in a space you've dreamt about is the goal, but the road there can be complex. To ensure your brewpub's successful launch, we've prepared a comprehensive checklist to guide you through every step.
1. Conceptualize Your Brewpub
Define Your Vision: What kind of brewpub do you envision? Will it be rustic, modern, or thematic? Your brewpub's vibe will dictate many of your following decisions.
Craft Beer Style: Determine the kind of beers you wish to brew. Lagers, ales, stouts, or perhaps experimental flavors?
Food Menu: Are you going for pub grub, fine dining, or a fusion menu? The food should complement your beer offerings.
2. Conduct Market Research
Audience Demographics: Who are you targeting? Millennials, boomers, or a mix?
Competition Analysis: Who are your competitors in the vicinity? What can you offer that they don't?
Feedback Collection: Engage potential customers in tasting sessions to refine your brews and dishes.
3. Create a Business Plan
Define Your USP: What makes your brewpub unique? This could be a particular brewing technique, themed nights, or an exclusive menu.
Financial Projections: Budget for start-up costs, operational expenses, and project your revenue.
Marketing and PR Strategy: How will you promote your brewpub before and after launch? Think of both online and offline mediums.
4. Scout and Secure the Ideal Location
Accessibility: Your brewpub should be easily accessible to your target audience and have decent foot traffic.
Space Layout: Factor in the brewing area, kitchen, seating, and restrooms.
Regulatory Check: Ensure the area is zoned for commercial use and can be licensed for brewing and serving alcohol.
5. Licensing and Legalities
Brewer's Notice: Required to legally produce beer for sale.
Liquor License: Essential for selling alcohol.
Health and Safety Permits: Needed for kitchen operations and overall safety.
Business License: To legally operate as a business entity.
Live Music/Entertainment License: If you plan to host live events.
6. Design Your Brewpub
Interior and Ambience: Should reflect your brewpub's concept and make efficient use of space.
Brewery Setup: Invest in quality equipment, such as EZBrew, and ensure a setup that allows scalability.
Furniture and Fixtures: Durable furniture that aligns with your decor theme.
7. Brewpub Operations
Hire Staff: Brewmasters (if not using EZBrew), chefs, servers, and other essential personnel. Prioritize experience and passion.
Train Your Team: From perfect pours to understanding the intricacies of each brew, your team should be well-versed.
Vendor Partnerships: Form ties with suppliers for raw materials, food items, and other essentials.
Inventory Management: Implement an inventory tracking system to avoid stock-outs or wastage.
8. Brew Your Signature Beers
Experiment and Finalize: Refine your beer recipes until they resonate with your brand and taste just right.
Quality Control: Ensure consistency in taste and quality for each batch.
9. Plan Your Menu
Dish Development: Craft dishes that pair well with your beers.
Taste Testing: Regularly update based on feedback.
10. Marketing and Branding
Branding: Design a logo, choose a color palette, and define your brewpub's voice.
Online Presence: A user-friendly website with your menu, story, and reservation options. Also, create profiles on social media platforms and review sites.
Launch Promotions: Host a soft launch, offer opening week discounts, or collaborate with influencers to create a buzz.
Ongoing Marketing: Regular events, loyalty programs, and seasonal promotions to keep attracting patrons.
11. Open with a Bang!
Grand Opening: Create an event that showcases everything your brewpub offers.
Feedback Collection: Use the initial weeks to gather feedback and refine any operational or menu aspects.
12. Continual Adaptation
Stay Updated: With brewing techniques, food trends, and customer preferences.
Regular Maintenance: Regular checks on brewing equipment, kitchen appliances, and overall infrastructure.
Engage with Patrons: Building a community around your brewpub ensures longevity and loyalty.
Conclusion
Opening a brewpub can be a challenging endeavor, but with passion and meticulous planning, it's a rewarding one. As you cross off each point on this checklist, you'll be one step closer to realizing your dream. Here's to crafting not just beers, but memories and experiences that last a lifetime. Cheers!